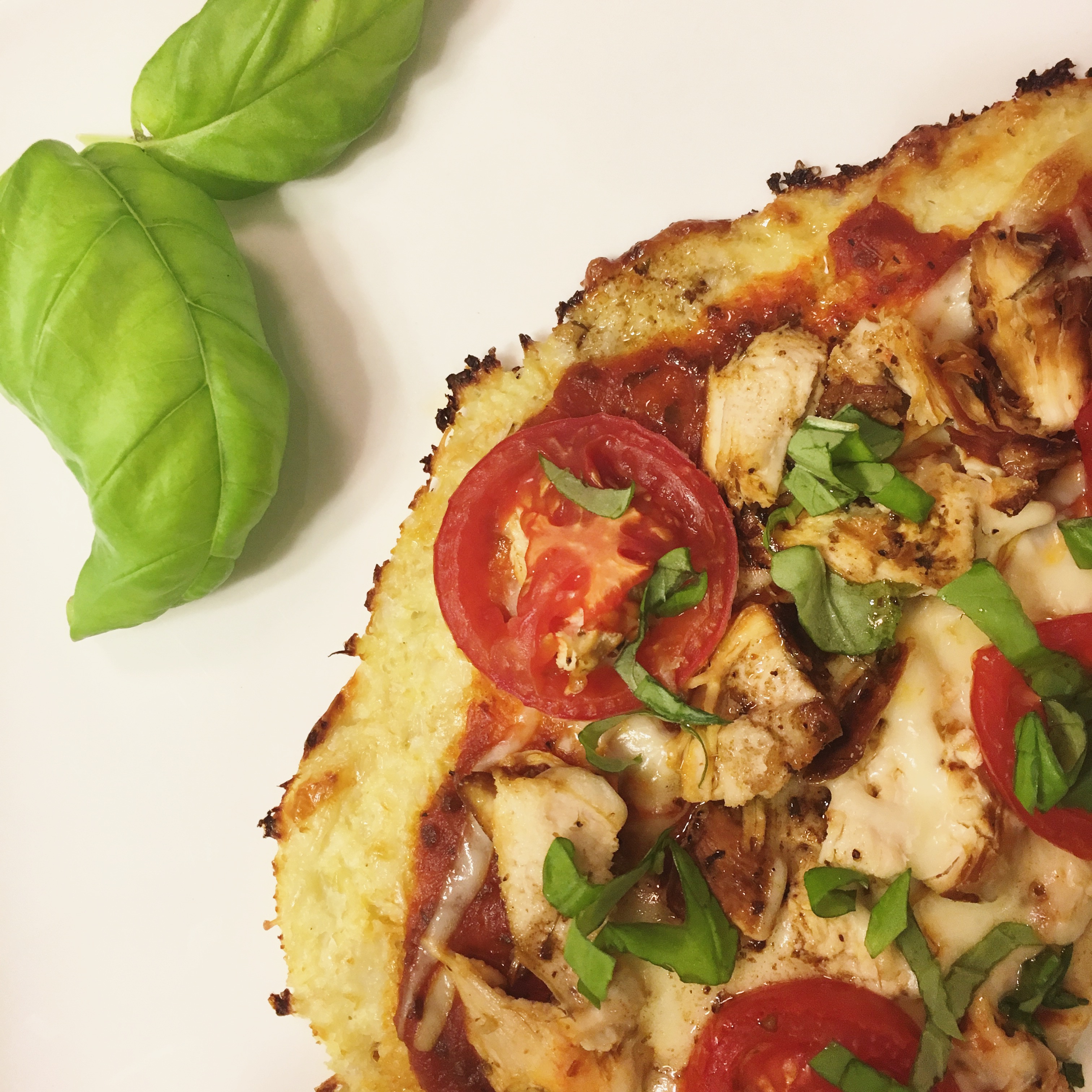 Have you ever had one of those days where you had no idea what to cook and you wanted to try something different but couldn't come up with something? Well tonight was one of those nights. With the kids being away at my parents place for a few days, J and I were hungry but had no idea what to eat.
I remembered there was some cauliflower in the fridge and I wanted to try this recipe for some time, so I decided to give the recipe a try and I must admit i was pleasantly surprised!
Here's my take on the recipe hope you enjoy!

Ingredients:
Crust:
1/2 a large head cauliflower chopped
1 large egg, lightly beaten
1 cup shredded mozzarella cheese
2 tablespoons grated parmesan cheese
Kosher salt and freshly ground black pepper
Toppings:
1/4 cup shreadded mozzarella cheese
1/4 cup tomato sauce
1 cup slices tomatoes
1/4 teaspoon crushed red pepper flakes (optional)
1/2 cup shredded grilled chicken (pre-cooked – see this recipe)
Fresh basil leaves, optional
DIRECTIONS
Line a baking sheet with parchment paper, and preheat oven to 425ºF. You can also use a round pizza pan if you have one.
Steam the cauliflower for 2-3 minutes using a vegetable steamer until soft. Remove from steamer and let cool.
Place cauliflower in a good processer and pulse until chopped
Combine cauliflower, egg, one cup mozzarella, parmesan cheese. Season with salt and pepper to taste. Mix well.
Once combined, pat into a circle a on the prepared sheet or in pizza pan. Spray lightly with nonstick olive oil spray and bake for 10 to 15 minutes, or until edges are golden.
Top the pizza with the sauce, remaining mozzarella, grape tomatoes, chicken and red pepper flakes. Bake in the oven for another 10 minutes until cheese has melted. Top with basil and bread dipper and enjoy!
There's more where this came from!
Subscribe for more mini moments, foodie fixes, DIY crafts and a touch of fashion inspiration.