My fitness journey: What six months of F45 looks like
---
I started at F45 Pickering weighing 159lbs. My body fat percentage was 32.2%. I know those in the fitness world say don't pay attention to the scale but I would pay it full attention.
I'd weigh myself religiously – every.single.morning. And every morning, before I decided to change, I would feel a range of emotions – indifferent (because I was too tired to care), sad (because I hated seeing the number) or motivated (because I knew I could change that number).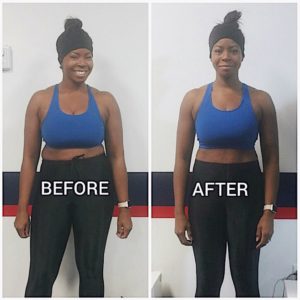 When I made the decision to start working out again, I will admit I was nervous as hell. This was especially hard because being a former athlete who trained regularly twice a day, I was embarrassed that I let myself get to the place I was and since I hadn't worked out in quite some time and I was intimidated that I wouldn't be able to get through the workouts. It felt like I was going 0 to 100 real quick.
I decided as opposed to letting those fears and excuses take over and changing my mind. I opted to push through. I'm not going to lie, for me there wasn't magic switch that made me suddenly love working out and making better food choices.
It took a REAL commitment to get started and a continued dedication and work to get to a place where making healthy choices are second nature. I realized that in order to get to where I wanted to be, I had to take a stepwise approach to behavior change. While it's continually challenging (shit it's hard AF some days to wake up at 5am to get to the studio) I made a commitment and it's been proven to be surprisingly manageable. All of the thoughts that I couldn't keep up and maintain went right out the window once I actually started!
MONTHS 1-3
I started my journey as you know with the F45 8-week challenge. The 8-week Challenge is a nutrition program designed to help members lose body fat. During the challenge you are taking in 1300 cals/day (that's for women, for men it's roughly 1900 cals/day ). With being a part of the Challenge, I was able to access the F45 Challenge App that included the Challenge meal plan as well as health tips to support me through the 8 weeks. The Challege App is EVERYTHING!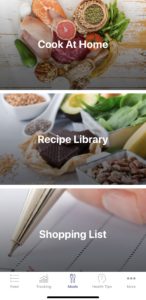 With my schedule being so hectic, thinking about what to have for dinner is a challenge in it self lol. Having the meals and snack along with a shopping list was super helpful and it also made the first step in making the change towards healthy eating habits so much easier! I didn't have to worry about creating healthy menus or counting calories for the day – it was already done for me!

The second part of my lifestyle change was of course working out. I knew that if I was really going to see change in my body, I needed to workout at leas 3-5 days a week. When I first started, I mostly workout on the cardio days (Monday, Wednesday and Friday) and I would also do a resistance class (Tuesday or Thursday) and rest on the weekends because those were typically busy days for me.  The meal plans coupled with working out 3-4 times a week really paid off! I dropped 16 pounds b and cut my body fat percentage down by 7% earning me the Challenge 20 title!!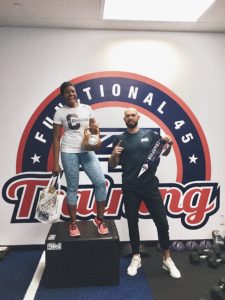 Maintenance Phase
After every challenge you move into the Maintenance phase of the F45 training program. This phase consists of a different meal plan with higher a higher calorie intake (roughly 1600 cals/day for women, 2200 cals/day for men). It still includes delicious recipes however the plan is intended to help you maintain your weight. The meals are still healthy but with the higher calories, you have to stay consistent with my F45 workouts.
During the maintenance phase, you can also introduce the foods that were "banned" in the Challenge (like my beloved wine) back into your diet. While you are free to east as you wish, I found myself continuing to choose healthier food options, even when eating out! It really came out one evening when Jay, the girls and I went out for dinner and we were looking at the menus and I'm seeing these insane calorie counts for entrees. I really could not fathom taking in the greasy food with that many calories in one meal!! After staring at the menu for a prolonged amount of time I ended up going with a grilled chicken salad lol. Before I would have gone with whatever, and I'll admit there are times that I will have the meal with the insane amount of calories, but the difference now is that as opposed to going that route EVERY TIME, I'm more conscious of my food choices and opt for the healthier options.
MONTHS 3-6
The next challenge ran from February 4 to March 31. This challenge was a bit different for me. In addition to the meal plans, there is also a Dashboard checklist that you use to track your daily activities which include: Exercising to sweat, having meals as per meal plan, taking a magnesium supplement, drinking lemon in warm water in the mornings, drinking 2-3L of water during the day, and getting 8 hours of quality sleep. You want to hit at least 30+ points daily.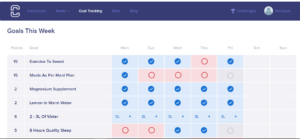 The F45 Challenge dashboard and stats let you track your goals and get insights into your progress. There's also a range of interactive charts also with keeping up with your goals on a daily basis whilst providing simple visual cues. I found this very helpful this round and I also did my best to track my activities daily.
I did end up getting really sick twice during this challenge in addition to dealing with a death in the family which impacted my eating habits and workouts. At the end of this challenge I ended up dropping 3% in body fat, but maintained my weight at 142lbs which meant that I gained muscle which I'm happy about!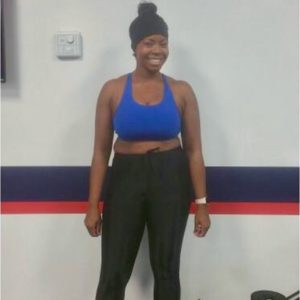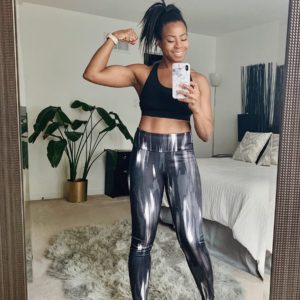 So after 6 months of F45, what are three things I taken away from the experience?
There's no excuse.
I learned that the only thing stopping me from living a healthier lifestyle is ME. I always had a reason why I couldn't workout or eat healthier but the truth is there is no excuse for not wanting to take care of yourself.
      2. Improved Fitness
The scans don't lie! I look great, I have more energy, I'm stronger and I have more confidence.
      3. Less cravings
I used to LOVE snacking on bad food. I like a treat here and there but I prefer the healthier option for sure! The main reason is now if I eat something unhealthy I either feel guilty after or I feel sick!
As I prep for the next challenge, my goals this round will be to:
Hit the daily goal of 30+ points in the tracker – sleep will definitely be a challenge
Continue working out 3-5 days/week and focus on building strength, especially in my upper body.
Understand more about food and the meals (i.e. macros and micro nutrients)
If you have been wondering about F45 and unsure about it, I highly recommend you start with the Challenge – Trust me YOU WONT REGRET IT! You can also try F45 Pickering for free trial for a week. That will allow you to get a real feel for the program. You can attend the various classes and you can really get a sense of how the program works and if it is a right fit for you!
There's more where this came from!
Subscribe for more mini moments, foodie fixes, DIY crafts and a touch of fashion inspiration.