So we're back into the swing of things at school and back to our day to day routines and today we're talking Potty training! Woohoo!!
Scarlett first started to show signs of wanting to potty train this past summer. She wanted to be like her big sister and pee on the potty. J and I had a chat and we said ok let's do it. We were all enthusiastic about it but after a while, it turned out Scarlett wasn't interested.  She was excited to sit on the potty, but had no interest in doing what needed to be done ON the potty. We would sit her on the toilet and wait and wait and wait. She would just sit on the potty say "there's nothing to pee!" with a smile then ask to come off.  We danced this dance for weeks. Understanding that potty training is a process, we kept putting her on the potty letting her try and have nothing come. Eventually she decided that she did not want to go on the potty anymore and refused  to sit on the potty.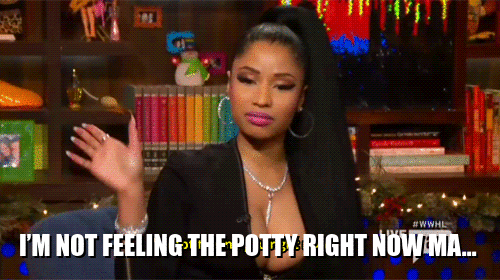 We didn't want to totally turn her off  potty training so we opted not to push and take a break. When she wanted to start officially potty training, we knew she'd let us know.
A couple of months ago that time came and Scarlett started showing signs of wanting to party train again…soooooo we decided to give round 2 a go!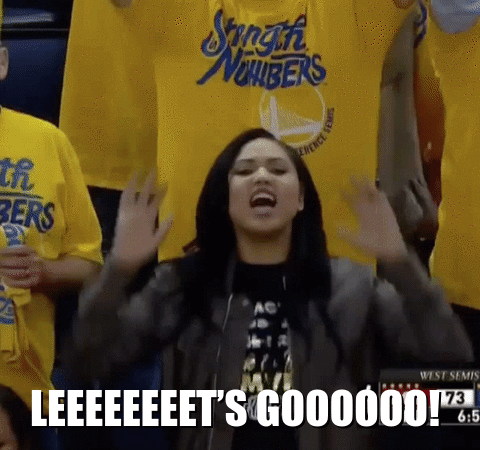 So now here we are in a new year and we are almost out of the woods! Scarlett's been doing great at home and at school!!! We just have a couple more things to tackle – doing #2 in the potty and staying dry overnight (more on that later). In the meantime, here are my five lessons from potty training:
Wait until your LO is ready. –You will be more successful and less stressed if you wait until your child is ready. Your child will show signs and give you cues that they want to try the potty so be aware of those – Tugging on a wet/dirty diaper, hiding to pee or poop, copying behaviours, awaking dry after naps are all different cues that your little one is ready.
Potty Training requires patience. Lots of it. Potty training can be frustrating at times. The mess, the cleaning, the washing, the disinfecting over and over and over. There will be that time where you will lose your cool and won't have the best response to your child refusing to tell you when they have to pee or poop. Take a deep breath and try not to get mad. Recognize that this is a new realm for your babe and potty training can be a big deal emotionally for them. Vahna was potty trained at 21 months. We had Scarlett when she was 23 months old and moved to a new house when she was 24 months. Vahna's teacher at the time gave us the heads up that all of the changes may impact her emotionally. While we expected more changes in her personality,  thankfully she remained her usual spunky self with no changes personality wise but what did change was her letting us know when she had to use the potty. Vahna regressed and I felt horrible. We managed to get her on track and she was back to going on her own a few months later. Set backs can happen and there is no one and done method to potty training that fits every child. Just know that there is light at the end of the tunnel and they WILL be potty trained, it just takes time.
Having a routine and being consistent is key.  I've found that having a consistent daily routine works well for Scarlett. During the week the first thing in the morning after waking up we're on the potty. We go again before leaving school. In the afternoons at pick up we go before we leave the school, go again after dinner, and again before bed. We're lucky to have the girls in a school that is very supportive of potty training. Being able to consistently carry on with the routine at home as well as at school has been very helpful in Scarlett's journey. On the weekends, the routine is pretty much the same, we just go to the bathroom before lunch, again after lunch (before her nap), after her nap and later on right be fore dinner. We're not always perfect but we try to stick with this timing as much as possible to avoid any accidents.
Shit happens so be ready! Potty training is messy. We are faithful Pull-Ups users but there is that point of transition that will happen when LO starts wearing underwear and there is a good chance your little precious will do #2 in his or her undies.  We are dealing with this now. Scarlett has mastered letting us know when she needs to pee, it's just letting us know when she needs to poop that we are currently working on. I ask her "Honey do you need to go poop?" and she skips with a smile and says: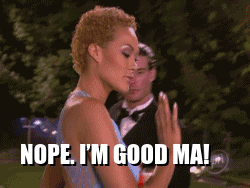 Moments later I see THAT look in her eye and then air won't be as fresh. Side bar – for you mamas that are potty training a undie pooper, have you seen THAT look in their eye then do the mad scramble to get them to the bathroom in efforts to avoid having to deal with poopy undies? Just me???  It's a work in progress….we'll get there. Just remember – PATIENCE!
Celebrate victories – big and small. Saying they have to use the potty, sitting on the potty, using the potty, flushing the toilet, washing hands – that is 5 different victories that can be rewarded. From clapping hands to stickers to a special dessert, everyone likes to be rewarded so why reward your little one for their job well done?  Pull-Ups has some great ideas on how to reward your LO for their potty training achievements. One tool that Pull ups has that I really like is the Adventure Progress Chart (see here to download). We are currently using this with Scarlett as we try to tackle pooping in the potty. She has been coveting a Princess Anna dress for quite some time and we have a deal that each time she poops in the potty, she'll get a sticker to put in her progress chart. Once the all the stickers  are on the chart and she gets to Minnie, she'll get her Anna dress!  Hey…a mom's gotta do what a mom's got to do folks #motivation!!!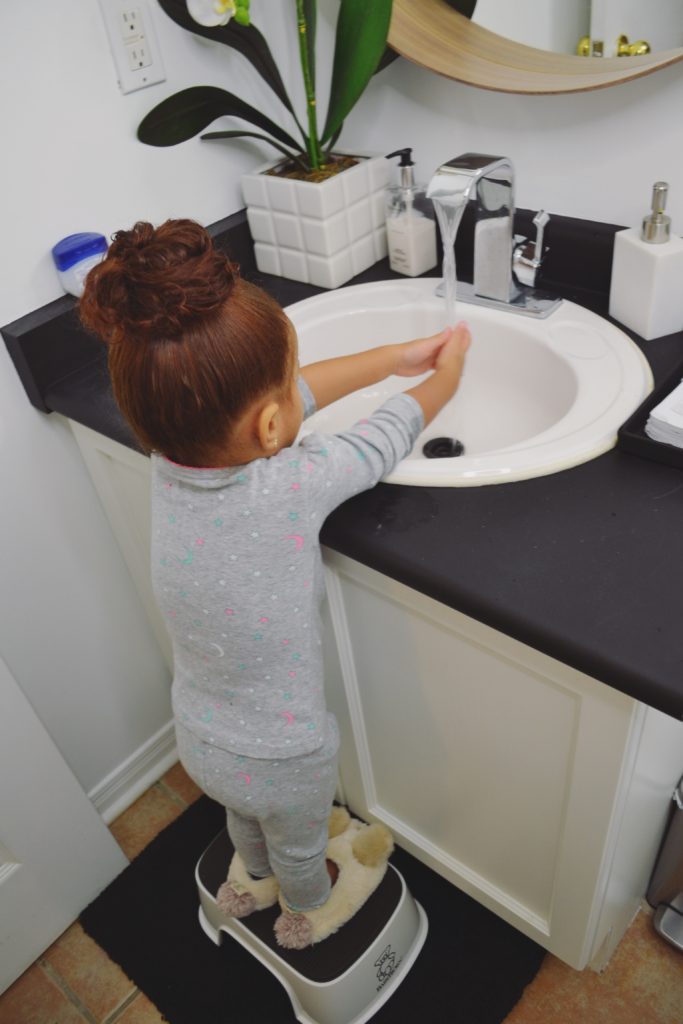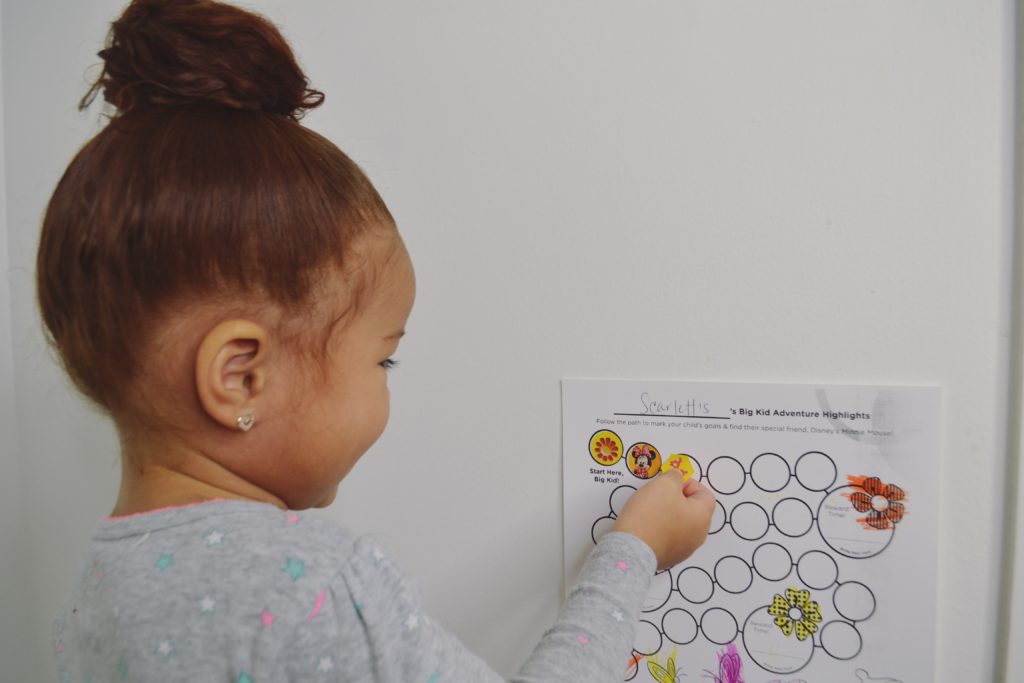 So that rounds out my top 5 lessons from potty training. Some other helpful tips for potty training that worked for us:
Whatever you choose to do whether it's Pull-Ups or underwear – allow your child to pull them down and up them self. It empowers them to be independent.
When training, buy clothes that your LO can get out of easily like pants with elastic waist bands rather than one piece jumpers or coveralls with tricky buckles. (This is the a rare instance when I agree with my husband that function wins over fashion!)
Use a potty and a toilet – I found it useful to start off with a potty (we love the Baby Bjorn potty chair) and work our way to the toilet.
Make potty training fun! Read a book during potty time – Scarlett and Vahna love the Potty time with Elmo. You can also get a play toilet for your child to play with to use with dolls or action figures.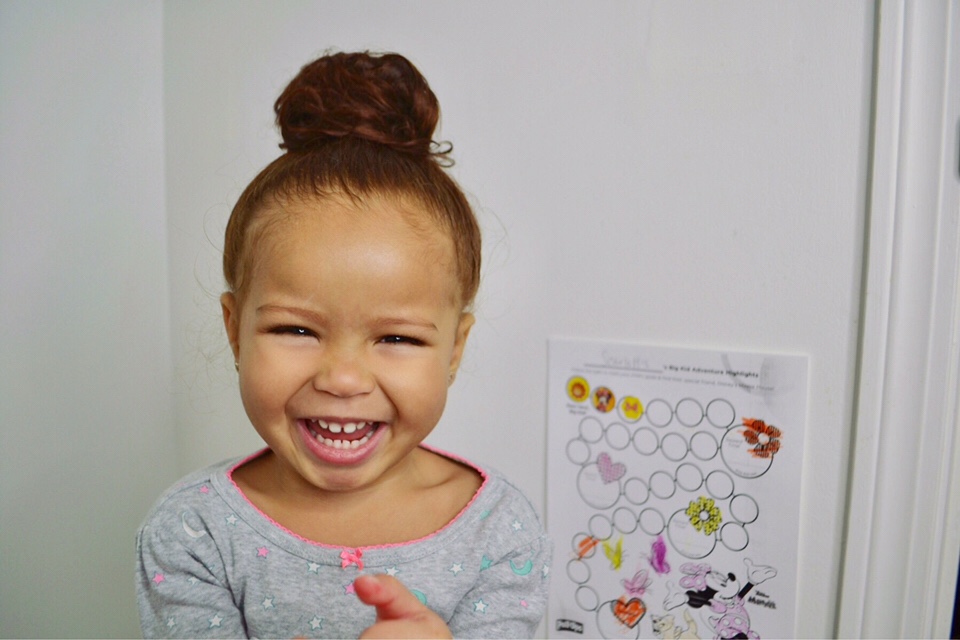 I hope you found this useful if you are on the potty training adventure with your little one. Have more questions? Leave them in the comments below!
~M
Sent from my iPhone
There's more where this came from!
Subscribe for more mini moments, foodie fixes, DIY crafts and a touch of fashion inspiration.