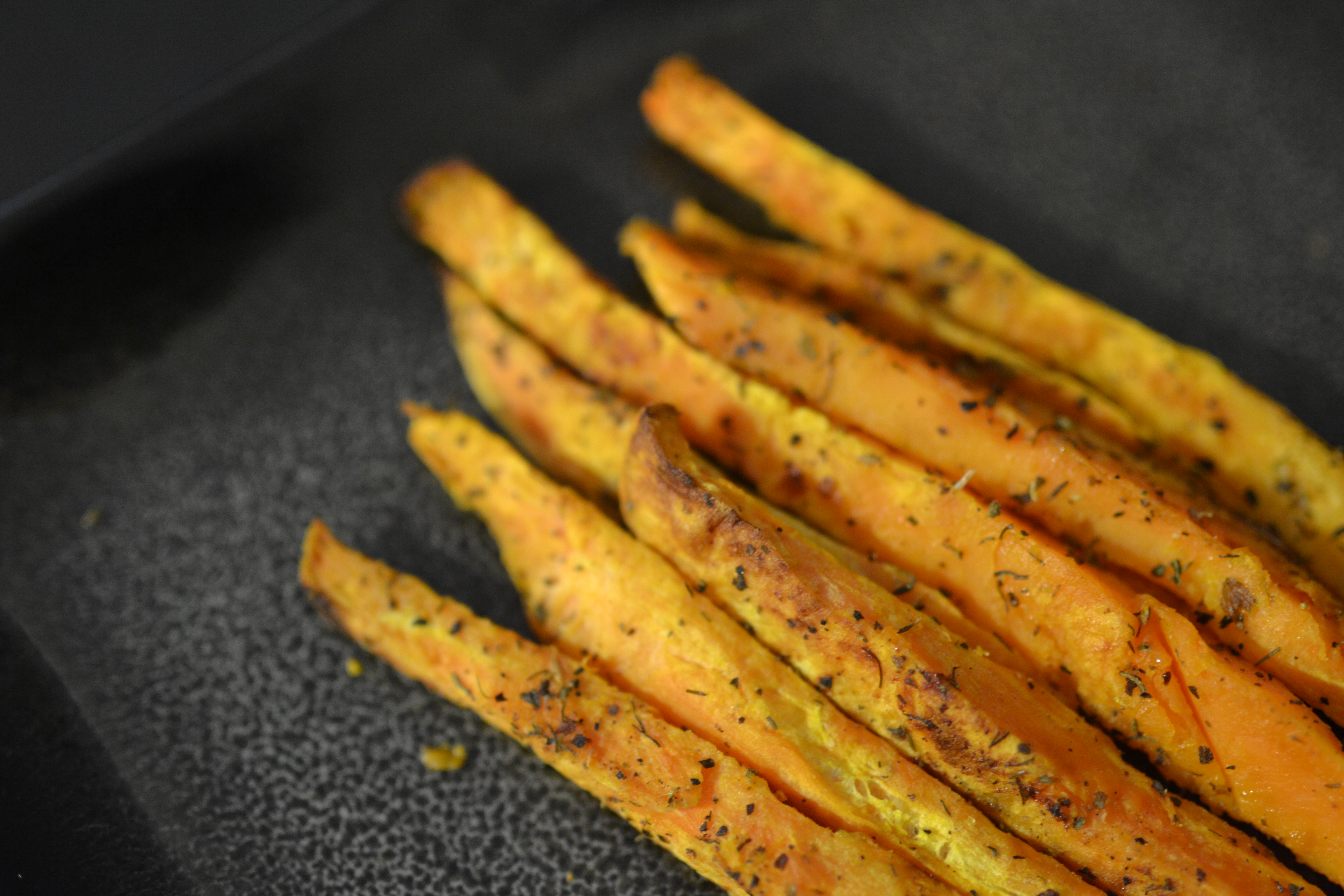 French fries, especially the ones from the golden arches, are one of my guilty pleasures. But since I'm on a healthy eating adventure, celebrating National French Fries day eathing those fries would be bad…very bad. So, since I couldn't let the day pass me by without taking part, I opted for this tasty and healthy recipe from the Daily Burn that is super easy to prepare. You can also find 8 delicious takes on french fries here so if you're like me and have a craving every now and then, you can try one of their healthier versions instead!
Spicy Sweet Potato Fries and Avocado Dip
Prep time: 10 minutes Cook time: 15 minutes
Ingredients
For the fries:
1 tablespoon olive oil
2 sweet potatoes (1 pound)
1/2 teaspoon paprika
1/4 teaspoon cayenne
1/4 teaspoon garlic powder
1/4 teaspoon onion powder
1/8 teaspoon of dried oregano
1/8 teaspoon of dried thyme
Ground black pepper
Sea salt
For the dip:
1 avocado, peeled and pitted
1/4 cup (2.5 ounces) silken tofu
Juice from 1 lime
1/4 cup packed cilantro leaves
1/4 teaspoon garlic powder
1/4 teaspoon onion powder
1/8 teaspoon salt
Preparation
Peel and cut potatoes into half-inch fries. Soak the fries in a bowl filled with ice-cold water for 1-2 hours. This step removes starch from the potatoes, which helps them get nice and crispy.
Preheat oven to 450° F.
Rinse and towel dry the fries. Spread them in a single layer on a rimmed baking sheet and toss with olive oil to coat.
Combine the spices and herbs in a small bowl; sprinkle over fries.
Bake for 15 minutes.
In a food processor, combine avocado, tofu, lime juice, cilantro and seasonings; process until smooth.
Enjoy!
~M
There's more where this came from!
Subscribe for more mini moments, foodie fixes, DIY crafts and a touch of fashion inspiration.